MmWave radar sensors, thanks to their ability to operate in all environmental conditions and their cost effectiveness, find ever-greater use in a wide range of sensing applications. Azcom Technology offers a wide range of value-added R&D services, to fast track customers developing solutions based on this technology. For the automotive market, Azcom offers CabinGuard®, a production-grade Vehicle In-cabin Monitoring solution, including Child Presence Detection.
Radar sensors technology is an emerging and extremely valuable sensing technology that operates in the spectrum between 30 GHz and 300 GHz, providing accurate and fundamental sensory information to enable a smarter world in various application domains, the two major ones being automotive and industrial.
Radar sensors can detect objects along with their range, velocity and angle of arrival on azimuth and elevation planes. These sensors leverage the principle of radar and due to the millimeter wavelength have the advantage of higher detection resolution and smaller footprint, especially on the antenna side. Additional advantages of this frequency range are the ability to penetrate materials like plastic and glass, immunity to bad or dark weather conditions and capacity to achieve extreme angular accuracy via beamforming techniques. In this field, Azcom Technology collaborates closely with Texas Instruments, Inc., who is market leader in mmWave radar sensors in the 60 and 77 GHz frequency range. For more information, visit www.ti.com/mmwave
Product Engineering Services For Radar Sensors
Thanks to the know-how and the strong expertise gained through the years, Azcom Technology can provide specific ad hoc services as well as to manage the whole product lifecycle from the initial steps of ideation and conceptualization to maintenance and training on the end product.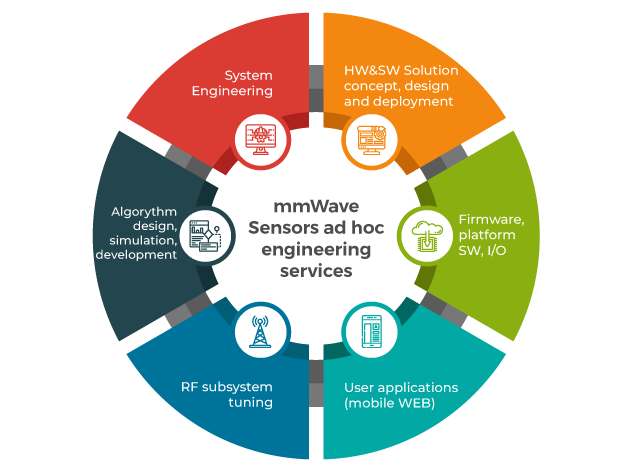 CabinGuard®, a Vehicle In-Cabin Monitoring Solution
From Life Presence Detection to Vital Signs monitoring passing through Occupancy Localization and Passengers' Classification, a complete set of automotive-grade features to improve different aspects of passengers' and driver safety and comfort, bringing car interior sensing to the next level.