Today the Internet of Things (IoT) is challenging the limits of the current centralized cloud computing architecture. IoT applications are generating a huge amount of data from sensors: sending all data to the central cloud requires high network bandwidth. In addition, mobile nodes connecting to distant clouds encounter high end-to-end network latency. This is in contrast to the stringent requirements of new emerging applications such as autonomous driving, augmented reality and virtual reality. To solve these challenges, a new cloud computing paradigm is shifting the functions from centralized and distant clouds to an edge server closer to the end user. Industry and research interests are focusing on edge computing networks to efficiently provide massive machine type communications, ultra-reliable low-latency communications with high spectral efficiency. There are many interesting applications that include Smart Home, Smart City, Healthcare, Connected Cars, Gaming, VR, AR, Retail, Smart Agriculture, Smart Energy, Industrial IoT (IIoT) etc. This is illustrated in Figure 1.

Research in this field has led to a new Industry Specification Group (ISG) inside ETSI that is driving of an industry standard for Mobile Edge Computing (MEC) with the support of companies like Huawei, IBM, Intel, Nokia, Vodafone and others. MEC ISG has renamed mobile edge computing as multi-access edge computing to include additional radio access technologies besides cellular.
MEC is defined by ETSI as a new architecture to provide an IT service domain and cloud computing capacity at the mobile network edge, inside the RAN and closer to the end user. MEC enables a new value chain, creating new opportunities for mobile operators and OTT players. The most key innovative technologies of MEC consist of computation offloading and mobility management. The former is the migration of computation tasks that require a lot of mobile device resources to a powerful edge computing platform, the MEC host, as depicted in Figure 2. The latter addresses the mobility scenario, mobile devices may often change their locations and the MEC apps should be migrated to the edge platform closest to the next mobile device location.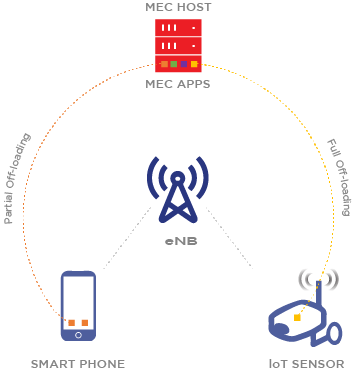 As depicted in Figure 3, depending on the location of the MEC platform, ETSI MEC can support several deployment scenarios in current 4G LTE networks. The main distinction amongst different deployment scenarios is the inclusion of the Evolved Packet Core (EPC) gateway functionality into the MEC platform at the edge site. Scenarios such as Distributed EPC and Distributed S/P-GW that use the standard 3GPP network functions minimally impact session and mobility management, security, charging and Lawful Interception.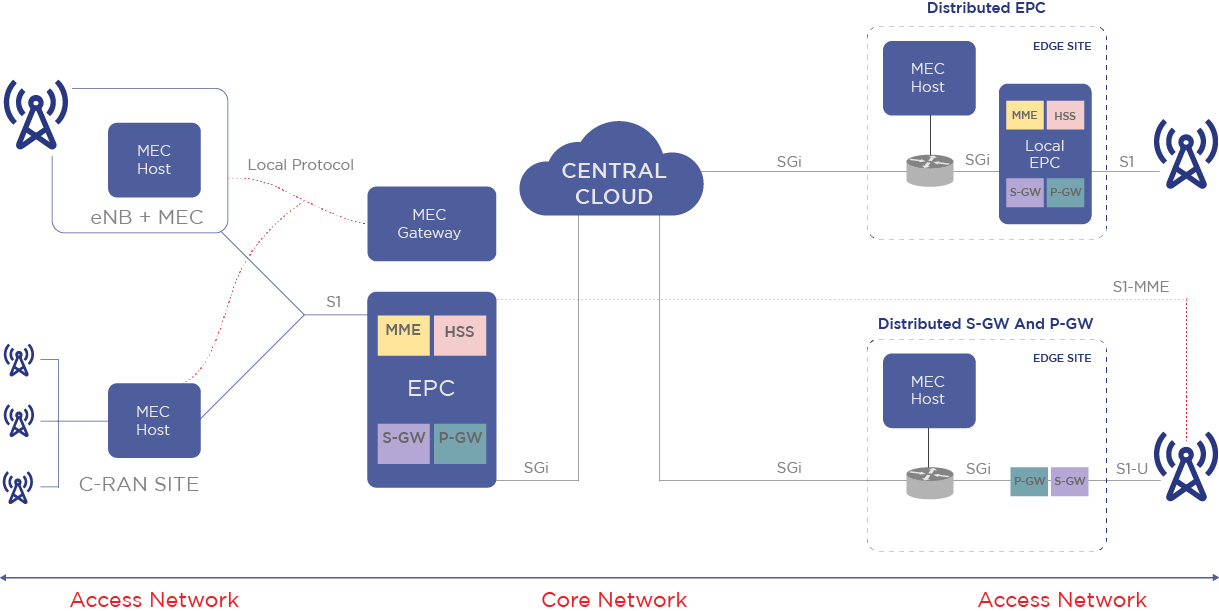 In the ETSI MEC framework, the MEC server has been generally envisioned to be stationary and centralised in a selected location (e.g., edge data Center), and typically owned by a mobile network operator. Fog Computing addresses the more challenging but realistic scenarios involving many stake holders other than operators wherein computing, storage and network resources can be supplied by any node and even moving devices (e.g., on-board a car).
Azcom Technology is participating in 5G CORAL which is an H2020 European Union/Taiwan collaborative project that is investigating service-based design in an edge-fog virtualized infrastructure. This strategy creates an exclusive opportunity for access convergence by involving the radio access networks (RAN) and user equipment and significantly simplifies cost, complexity & deployment of edge data Centers. The main goal of the 5G CORAL solution is to provide a low-cost network with significant ease of deployment.