Technology background and introduction
5G technology is being designed to support new and diverse wireless network use cases. While 3G and 4G focused on making high speed data a reality, the requirements emerging for the 5G network are more differentiated and aim to introduce wireless networking for diverse applications like connected vehicles, critical communications, machine-to-machine (M2M) communications and for the Internet of Things (IoT). 5G rests of four key pillars – new air-interface, flexible spectrum allocation, network function virtualization (NFV) and software-defined networks (SDN). The new air interface and flexible spectrum allocation enable very high data throughputs and mobility by adaptively switching between sub 6 GHz and mmWave spectrum slices. NFV and SDN work in conjunction to enable new network management concepts such as network slicing, ultra-high reliability and native multi-tenancy. These pillars work together to optimize end-to-end latency and provide a seamless user experience
Standardization/Deployment
5G standardization has been planned in two phases. Phase 1, which corresponds to 3GPP Release 15, has been focusing on Non-Standalone Access first followed byStandalone Access. Most of the attention has been given to eMBB (enhanced Mobile Broadband) use cases. Rel. 15 freeze was successfully achieved in June 2018.
Release 16 will be covering Phase 2 and is expected to be frozen in Q1 2020. The focus of this release is on ultra-reliable and low latency communications (uRLLC) and massive machine type communications (mMTC). Key addressable use cases includeV2X and Industrial IOT. The following picture provides a time-line for 4G evolution and 5G standardization during the past decade.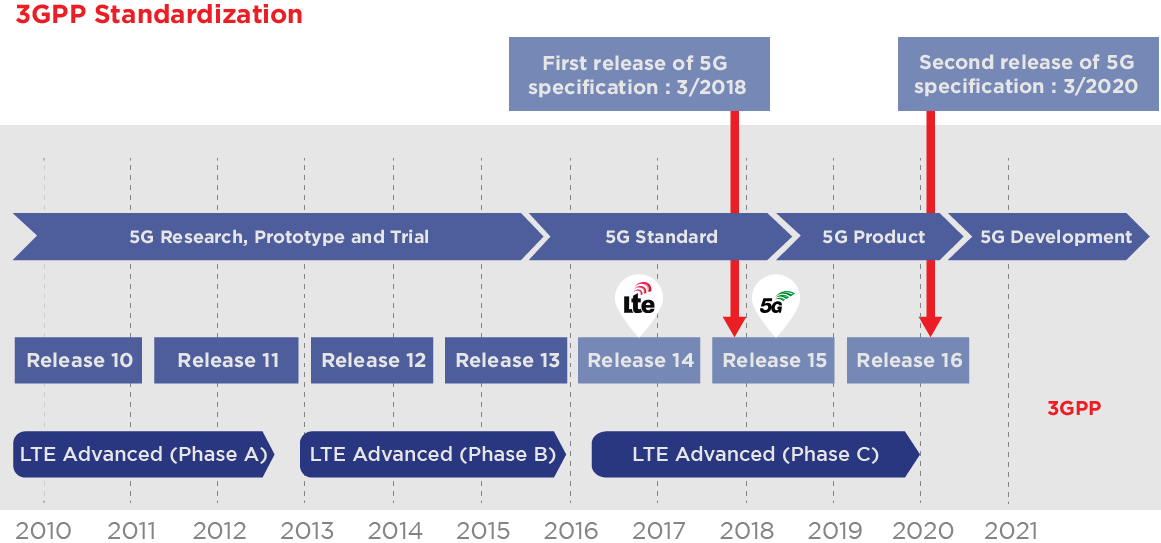 Commercial 5G deployments are envisioned by 2020, nevertheless several trials and demonstrations have already been taking place worldwide with some carriers announcing service readiness.
Azcom Technology is a contributor to the 5G-CORAL project, which is part of the European H2020 5G Public Private Partnership (5G-PPP), that aims to deliver a convergent 5G multi-RAT access through an integrated virtualized edge and fog solution. Azcom Technology has been focusing on the application of the 5G CORAL concepts to the automotive scenario, realizing a Proof of Concept which focuses on "Road Safety" use cases, specifically on a delay sensitive warning service whose design exploits the 5G CORAL computational resources available not only at the mobile edge network but even at the vehicles.
Azcom Technology has been also deeply involved in the pre-standardization phase of EU's Horizon 2020 5G-PPP NORMA (Novel Radio Multiservice Adaptive Network Architecture) project, which tackled the 5G requirements by completely re-thinking the network architecture. The key idea was to flexibly allocate network functions that can be executed far away or in proximity to the radio interface, depending on the service requested by the end user. Both static and dynamic network configurations are controlled by a hierarchy of orchestrating elements which in turn control both the tenant-level configuration and the dynamic service-level configuration.
Azcom Layer 1 and Digital Front End development expertise, has matured during the last two decades with key projects onseveral SoC architectures (CPU, Vector Processors, DSP, FPGA) and RAN technologies (GSM, HSPA+ and LTE) executed with top tier Telecom OEMs.
This strong background provides Azcom the ability to architect and design heterogeneous 5G Layer 1 solutions, based on different hardware designs:
COTS hardware – e.g. X86/ARM CPU based servers where to apply sophisticated pooling principles
Specialized System-on-Chip rich of HW coprocessors, DSP cores and general-purpose CPUs.
Mixed architectures based on FPGA and CPU.
Azcom is currently working on developing its own 5G-NR PHY solution that is optimized for resource usage and scalable to support various HW architecture configurations.