POSTED BY:
Azcom Technology is one of the leading players in advanced wireless communications for over two decades and has delivered cutting edge LTE solutions and services to the global market. Azcom has developed LTE Small Cells, Baseband units, Network in a Box (NIB), and Evolved Packet Core (EPC) products to serve both commercial and private LTE market segments.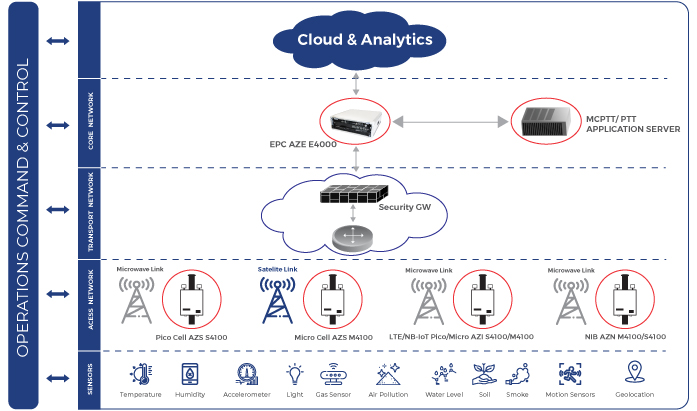 A converged multimedia communications solution for mining includes the Radio Access Network (RAN), the Core Network (EPC), associated transport networks, and secure application servers (Figure 1). Azcom offers NB-IoT capable radio access network nodes that can be deployed in a variety of outdoor environments and remotely managed. Azcom provides a power-efficient LTE base station that can be operated exclusively on solar power. Azcom's centralized EPC, built on a general-purpose server platform, can manage several LTE base stations.
Azcom's Narrow Band IoT (NB-IoT) solution is especially relevant to the mining market for Machine to Machine (M2M) communications. Azcom leverages partnerships for some of the application servers like MCPTT. Azcom NB-IoT solution enables deployment and management of thousands of sensors in the mining area. Data from these sensors is directly transferred via the NB-IoT terminals to the LTE access, edge and core networks thus further improving real-time performance and operating efficiency.
With due consideration of the existing installations and the type of mining area (open-pit or sub-surface), by exploiting its portfolio of field-proven products, Azcom can design and develop a converged multimedia communications solution to seamlessly fit customer needs.