Azcom Network In a Box (NIB) supports mission critical workforce management system
Azcom Technology, a leading player in advanced wireless communication is planning to showcase its latest products and featured wireless solutions at the Mobile World Congress to be held in Barcelona, Spain between Feb 27th and March 2nd, 2017.
Mission critical operations, like public safety, involves the prevention of and protection from events that could endanger the safety of people from significant danger, injury/harm, or damage, such as crimes or disasters (natural or man-made). Public and Private safety organizations are mandated to deliver a certain level of service to society, performing Mission Critical Operations. Public safety services like reliable and fail-safe utilities and transport systems require broadband wireless networks to provide effective and time-critical services. Law enforcement officers, fire fighters and paramedics are in real need for high bandwidth, reliable mobile broadband infra structure and applications to maximize their service performance.
Azcom Technology provides all the key 4G mobile broadband infrastructure components and solutions essential to build a state-of-art deployable 4G mission critical network. This includes Network In a Box (NIB), Small Cells, C-RANs and Evolved Packet Core (EPC).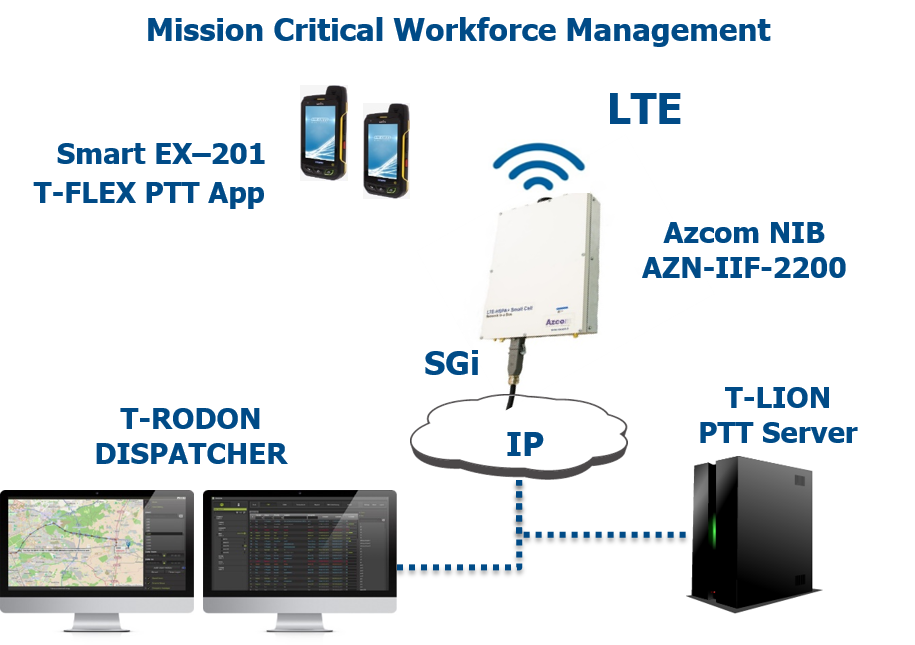 Azcom Network In a Box
The Azcom AZN-IIF-2200 uses the latest generation multi-core SoCs to offer a powerful, flexible, compact, highly portable and cost effective solution with the option to use a pluggable card to run an EPC module that enables NIB capabilities. The product comes with a passive casing that is deployment ready with IP67 compliance. The AZN-IIF-2200 can be readily deployed for mission critical, public safety, defense, surveillance, remote coverage and other private applications.
"The Azcom NIB has the essential features to host and enable mission critical and public safety applications", said Dr. Satish Ananthaiyer, EVP Business Development. "The NIB offers plug and play set-up that can enable critical services very quickly when needed".
The Azcom physical layer and protocol stack software are fully integrated on the NIB platforms and end-to-end tested with commercial HSPA+ and LTE UEs. All major functional blocks of this solution are Azcom intellectual property and are licensable separately. This has significant value for customers with application specific requirements needing customization and/or development of additional features, particularly in defense, public safety and large utilities with private networks.
Leveraging the Azcom NIB platform, Azcom, Pontiradio and ecom will demonstrate a professional communication platform for the management of mission critical workforce.
The SNS PoC service implemented by Pontiradio is based on TASSTA SW application platform and offers a modern Push-To-Talk solution which uses all technical capacities of standard smartphones. The solution can be provided on the "cloud" or "on premises" and offers a complete package of individual, group and priority calls, messages and data transfer, voice recording, GPS and indoor tracking, alarm and many more features. This can be deployed in hazardous environments like oil/gas/chemical plants, mines etc.
"The TASSTA PTT application is fully featured to offer services on the 4G-LTE NIB offered by Azcom Technology", said Kaveh Hosseinzadeh, TASSTA Managing Director.
The PTT application is installed on ecom's ultra-rugged LTE / WiFi / Android™ smartphone ATEX certified that has unrivalled features such as special touch screen for direct sunlight and gloves use, extremely loud speakers, extraordinary powerful battery, water and drop resistance and much more. Smart-Ex product line has been especially developed for Harsh and Dangerous environments like Oil & Gas, Chemical and Pharmaceuticals production plants.
"The ecom handset is interoperable with the Azcom NIB to provide end-to-end PTT services even in potential explosive areas", said Mauro Stefani, Managing Director of ecom Italian subsidiary.
By employing Azcom NIB platform, TASSTA SW application and ecom devices, Pontiradio provides services for design, implementation, and management of mobile broadband networks for day-to-day mission critical operations.
"The Azcom NIB with TASTA PTT is a fully-featured mission critical service that will benefit our customers", said Ruggero Cerizza, President of Pontiradio.
Azcom is demonstrating this end-to-end solution at MWC. The Azcom booth is located in Hall 7 Stand G21. For meeting requests, please send email to sales@azcomtech.com
About Azcom Technology
Azcom Technology, a leader in wireless communications with two decades of experience, provides a complete suite of software/hardware products with customization and design services to build LTE/HSPA+ wireless networks for tactical, public safety, mission critical, IoT and 5G applications. To address the evolving IoT market, Azcom is collaborating with many industry leading players to develop NB-IoT PHY/stack both for the network and the device. Azcom provides LTE traffic generator and testing solutions for NB-IoT and eMTC applications. In the automotive and avionics sectors, Azcom is working with several companies to build connectivity solutions and cloud based applications for data processing/storage. Azcom is headquartered in Milan, Italy with a design center in Gurgaon, India.
For more information, please visit https://www.azcomtech.com
About Pontiradio PR
Since more than 50 years Pontiradio PR is a leading provider of services for design, implementation, and management of networks for professional mobile radio communications for major multinational, public authorities and industrial customers. The head office is located in Peschiera Borromeo (MI), while a network of service centers all over Italy allows the Company to provide a nationwide coverage and capability of intervention. To offer professional users of PMR communications a set of innovative outsourced service solutions called "SNS – Smart Network Sharing", Pontiradio has created an extensive and advanced infrastructure for Mission Critical Communications (towers – access network – transmission network – NOC – cloud servers). This implement the concept of «Radiocomms as a Service», which does not require the user to build and operate its own dedicated infrastructure, avoiding the related investments for the construction, management, and maintenance of the network.
For more information, please visit www.pontiradiopr.it
About ecom
Globally, ecom instruments is the leading provider of mobile solutions and devices for use in explosive areas, whether including chemicals and petrochemicals, pharmaceuticals, oil and gas production, mining or energy and the environment. For more than 30 years, ecom has set the standards and gathered comprehensive expertise in explosion protection for daily use in hazardous industrial areas across the globe. In its four core disciplines of communication, mobile computing, portable hand lamps and measurement calibration, ecom instruments offers a huge variety of innovative and proven solutions.
For more information, please visit www.ecom-ex.com
About TASSTA
TASSTA is a modern and young software development company, with a background of radio system integration and a strong extensive expertise in the professional mobile radio (PMR) market, which has developed an innovative communication system which enables companies from various industries to experience a highest level of communication. It consists of different types of components: T.LION (communication server), T.COMMANDER (configuration and administration tool), T.RECORDER (secure recording), T.FLEX (client application ), T.RODON (command & control center) and T.BRIDGE (gateway to other existing networks). Customers enjoy a complete package of individual, group and priority calls, messages including data transfer, voice recording, GPS and in house tracking, alarming meeting all requirements for lone worker protection and a lot more features. TASSTA combines all advantages of traditional mobile radio with all that modern smartphones must offer.
For more information, please visit www.tassta.com
Media Enquiries
For further information, please contact:
Claudio Canosi
Business Development Manager
Claudio.canosi@azcomtech.com
+39-02-82-45-0325